Here's this week's Know & Tell Friday:
Question 1: Which is worse? Being gossiped about or being lied to? People are always going to gossip & that doesn't really bother me all that much anymore. But, I HATE being lied to.
Question 2: I see that a lot of ladies out there in blogville are "Starbucks" gals . . . What is your favorite "Starbucks" drink? Peppermint White Chocolate Mocha or just plain ole White Chocolate Mocha - - - either way, I'm a happy gal!
Question 3: Name an embarrassing moment (Make it good). In middle school, taking a shortcut to catch up with the guy I liked & ending up rolling down a muddy hill right in front of him. EMBARASSMENT to the 3rd power!!
Question 4: I figure that most of us ladies out there are bargain shoppers and that we find ways to save money, but what is one thing that you don't mind spending your bucks on? Oh, I'm a cheapskate, so this is a hard one. I guess the one thing I'll give in to spending more money on is a good, comfortable pair of shoes.
BONUS QUESTIONS:
Question 5: Is it hard for you to ask someone to forgive you when you have wronged them? Most definitely!
Question 6: Give one of your best parenting tips . . . something that you have learned through experience. I've been around children my entire life. I taught preschool for a while, was a nanny, babysat everybody & their brother & now have a 4-year old nephew, but have never been a parent, so . . . I can't really give you a parenting tip. SORRY :-(
* * * * * * * * * * * * * * * * * * * * * * * * * * * * * * * * *
Here's this week's Friday's Feast:
Appetizer: What is your favorite beverage? Water, sweet tea & coffee.
Soup: Name 3 things that are on your computer desk at home or work. Calendar, photos of family & friends, and a clock. These items are on both desks.
Salad: On a scale of 1-10 (with 10 being highest), how honest do you think you are? Well, since this question is about being honest . . . let me be honest and say . . . 8.
Main Course: If you could change the name of one city in the world, what would you rename it and why? This one wasn't really all that easy for me. I tried to just narrow it down to a city in my state (SC). We have a city called Aynor and I've always just hated that name. I have no idea what I would change it to - - - anything but what it is.
Dessert: What stresses you out? What calms you down? There are a few things that stress me out, but at the top of that list - FINANCES! Just spending time with family & friends tends to help me de-compress, de-stress & calm down.
* * * * * * * * * * * * * * * * * * * * * * * * * * * * * * * * *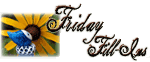 The last compliment I got was from Debbie; she said "You are fabulous and don't ever forget that!" How sweet is that?!

I'm reading "Traveling Light" by Max Lucado.

I woke up today and thought what is wrong with me - I hardly sleep anymore!

Why does everything have to be going so badly right now?

The last thing I ate was cereal.

January is always such a gloomy month for me.

And as for the weekend, tonight I'm looking forward to hanging out with family, tomorrow my plans include more hanging out with family and Sunday, I want to relax!
* * * * * * * * * * * * * * * * * * * * * * * * * * * * * * * * *